FLUXES AND
STRUCTURES IN FLUIDS
This Conference follows the highly successful Meetings held in Sveltogorsk (1987), Kanev, Ukraine (1988), Novosibirsk (1989), Jurmala, Latvia (1990), Vladivostok (1991), St.Petersburg (1992), Moscow (1993), St.Petersburg (1995), Svetlogorsk (1996), Moscow (1997), St.Petersburg (1999), Moscow (2001), St.Petersburg (2003), Moscow (2005), St.Petersburg (2007), Moscow (2009), Vladivostok (2011), St.Petersburg (2013), Kaliningrad (2015).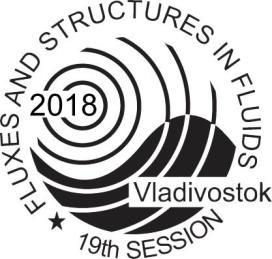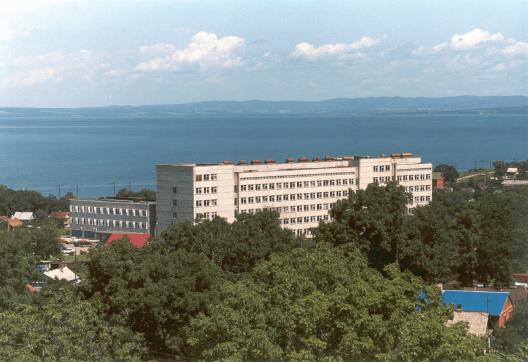 V.I. Il`ichev Pacific Oceanological Institute Far Eastern Branch Russian Academy of Sciences
is located at the coast of Peter the Great Bay, the Japan Sea. It was established in 1973 and now it is the largest institution in the Russian Far East, conducting research in the Pacific and Asia Marginal Seas, including Arctic, in the fields of physical, chemical, and biological oceanography, hydrophysics, hydroacoustics, geophysical hydrodynamics, marine ecology, biochemical technologies, geology and geophysics, technological marine systems, remote sensing and ocean information systems.
POI scientists have participated in more than 500 research cruises aimed at multipurpose investigation of marine environments. Substantial progress has been achieved in understanding variability and elucidating the role of regional processes in climate variation and change. The POI Oceanographic Database accumulates data from research cruises. Unique collections of samples of bottom sediments and rocks have been created.
The Institute operates small research vessels for field surveys in coastal areas. The open sea surveys are implemented using the research fleet of the Far Eastern Branch of the Russian Academy of Sciences.
The POI Popov Island and Cape Schultz marine experimental stations serve for conducting research in the coastal area of Peter the Great Bay, Japan Sea.
CONFERENCE VENUE

POI FEB RAS

43 Baltiyskaya Str., Chaika Station, Vladivostok, Russia.
Schedule of the commuter trains is available at
www.expresspk.ru (in Russian)
.
© 2017 POI FEB RAS All Rights reserved
A.Yu. Ishlinsky Institute for Problems in
Mechanics, RAS
V.I. Il'ichev Pacific Oceanological Institute,
FEB RAS

E-Mail: pacific@poi.dvo.ru Tel: +7(423) 231-1400 Fax: +7(423) 231-2573
INTERNATIONAL CONFERENCE
VLADIVOSTOK, RUSSIA
AUGUST 8-10, 2018
Russian Academy of Sciences.
Federal Agency of Scientific Organizations.
The Russian Foundation for Basic
Research.

The
ANNOUNCEMENT
of the Conference can be downloaded here